Homework guidelines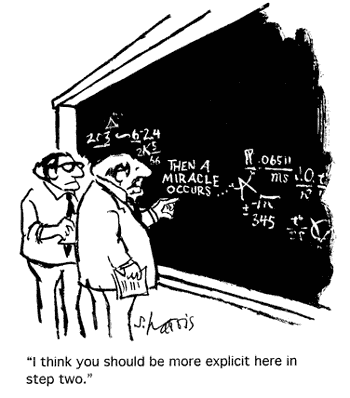 Reproduced from http://www.sciencecartoonsplus.com
"The purpose of computation is insight, not numbers", Richard Hamming (1962)
"The purpose of visualization is insight, not pictures", Ben Shneiderman (1999)
Your matlab code must run, produce final results, and must not print the results of intermediate irrelevant calculations.

If the submitted code is not runnable (e.g. because the project is not shared with the instructor and TA, or because not all needed files have been uploaded, or because the code has not been tested in the first place, or for any other reason under complete student's control, the homework will be returned without grading and will be subject to late submission rules.

When plotting data, in particular convergence results, think carefully about whether you want a linear, semi-log, or log-log plot. If you are unsure what sort of plot to use, state the considerations you used to arrive at your decision. Points will be taken off for thoughtless plotting decisions.
The recommended version of Matlab to use in class is Matlab R2018b which is the latest stable release. This version is installed on UConn AnyWare and available for installation on students' personal computers.
Homework assignments submitted on time may be returned (at the discretion of the instructor) for corrections after initial grading.
Homework assignments are not accepted after the solutions had been discussed in class, and/or had been posted online, and/or graded assignments returned. Individual emergencies can be accommodated by extra credit assignments.

You are welcome to discuss the homework's problems with others in order to better understand them but the work you turn in must be your own. In particular, you must run your own calculations (where applicable) and communicate and explain the results in your own words.

Members of collaborating groups must consistently list all collaborators names and submit assignments together.

Assignments that are hard to understand are also hard to grade correctly, therefore: (a) use words and pictures to supplement your equations; (b) work must progress linearly down the page - recopy solutions that are too nonlinear. Requirements for written assignments:

Use letter-size paper. Use only one side of each sheet.
Box your final answer(s) and important intermediate results.
Staple your notes together, (i.e.~no paper clips, torn or folded corners) with the assignment cover page (if applicable).
---